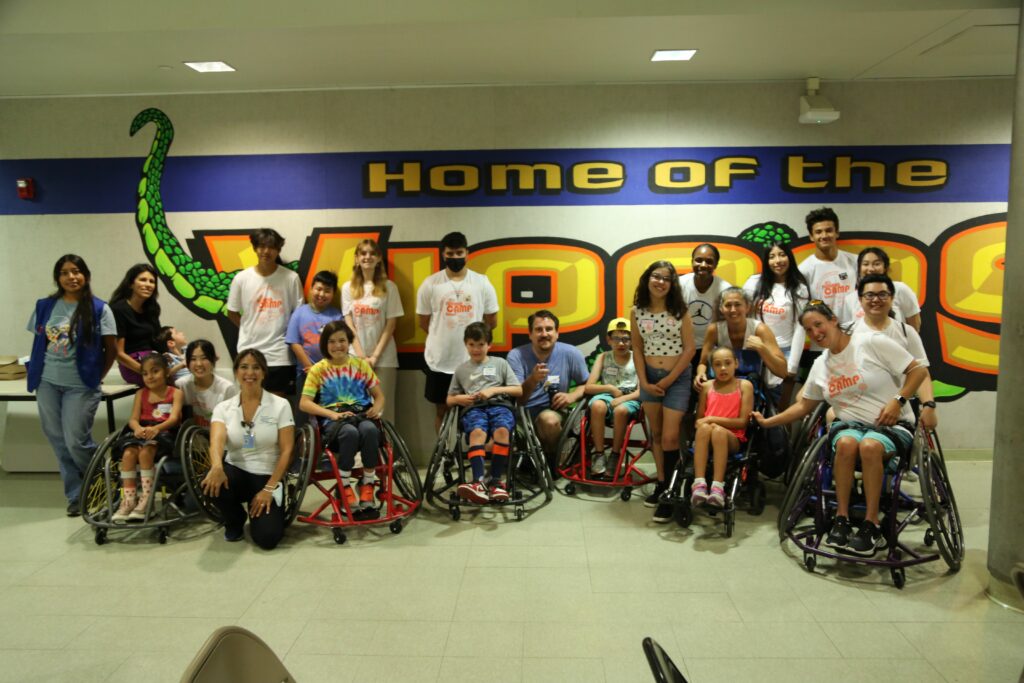 Empowering the Disability Community Together
Join us in supporting impactful organizations through the LuskinOIC Disability Consortium in partnership with UCLA Department of Orthopaedic Surgery.
Patient outcomes are at the core of everything we do
Scarlett was born with her twin brother via emergency C-section at 32 weeks. At 6 months old, Scarlett had a brain MRI which revealed Moderate Central Brain Atrophy. Scarlett was appointed to Dr. Rachel Thompson who not only treated her but also got to know her interests such as her dream of owning a bakery, her love for singing, and that her favorite princess is Aurora. Dr. Thompson did a bilateral reconstruction of the pelvis, hips, and knees. After a long and painful recovery, Scarlett states that "it was all worth it" and was grateful for Dr. Thompson and LuskinOIC.
The LuskinOIC Disability Consortium drives inclusivity by facilitating access to recreational resources, education, and advocacy opportunities for positive outcomes in the disabled community.
The LuskinOIC Disability Consortium, in partnership with UCLA Department of Orthopaedic Surgery, is committed to increasing healthcare equity for people of all abilities in the Los Angeles community. As part of this commitment, we partner with impactful organizations to spotlight adaptive athletics, community resources, and educational opportunities that empower individuals with disabilities to achieve positive outcomes. Our partners are dedicated to promoting positive change and advancing the well-being of the disabled community in Los Angeles.
Thrive Adaptive was conceived as an offshoot of the Prescription to Play Initiative within the UCLA Department of Orthopaedic Surgery as part of their effort to introduce their clinical professionals and medical students to adaptive athletics.
Thrive Adaptive built on this concept at UCLA and brodened the scope to provide first aid medical support to the largest adaptive sporting events in Southern California. Since June 2023, the volunteer led community has recruited more than 100 students and physicians to support Angel City Games, The US Open of Adaptive Surfing as well as Triumph and Life Rolls On Foundation.
Angel City Sports is a leading adaptive sports organization in Los Angeles that is spearheading the Paralympic movement in the region. With a mission to provide opportunities for disabled individuals to participate in sports and other recreational activities, Angel City Sports offers nearly 50 different programs throughout the year. These programs serve over 1,000 people with disabilities annually, catering to individuals of all ages and abilities. Through their comprehensive programs, Angel City Sports provides a supportive community that fosters a sense of belonging and empowerment for disabled individuals in Los Angeles. Their efforts have helped to drive inclusivity and
LuskinOIC is a proud supporter of the UCLA Adaptive Sports Program. Currently the program offers competitive wheelchair tennis along with recreational dropins for tennis. and basketball. UCLA Adaptive Athletics is actively looking to grow student participation.
Triumph Foundation's mission is to inspire and empower individuals with Spinal Cord Injury/Disorder (SCI/D) by providing lifelong support, resources, and hope. They serve people of all backgrounds, including children, adults, and Veterans. Triumph has touched the lives of over 8,000 individuals with disabilities, provided over $1,000,000 in assistance to those in financial hardship, and performed dozens of accessible home remodels. They regularly hold 20+ adaptive recreation events annually, and visit 24 area hospitals and rehabilitation centers throughout Southern California. Triumph has two full-time and six part-time staff members, 80 professionally trained Ambassadors, and a volunteer base of over 300.
Disability Rights Legal Center
Disability Rights Legal Center (DRLC) is a 501C-3 non-profit, public interest advocacy organization that champions the civil rights of disabled people as well as those affected by cancer (CLRC). DRLC uses litigation, community advocacy, education, and resources to challenge discrimination, abuse and oppression of disabled people to beneficially impact society. The organization provides the highest quality legal representation and counseling to people with disabilities and those affected by cancer.
Inclusive Sol is an online community and digital resource designed for families with children affected by Cerebral Palsy (CP). The platform provides support for parents and caregivers as they navigate caring for a child with a disability. Inclusive Sol's vision is to build a community that explores how to provide equal access to opportunities and resources for people who may otherwise be excluded or marginalized.
Sign up for more information